>
When
MoBoleez
contacted me to review their nursing bonnets, I hadn't even heard of them. I wish I had heard of them sooner- these are great!! I am OK with nursing in public now- but with baby #1? No way. It was way out of my comfort zone.
Fast forward 2 kids and hundreds of hours of nursing while chasing older kids around and I think I've nursed almost everywhere I've been.
Anyway, what IS MoBoleez? Well, its first and foremost it is a company that was
started by a mom
of 2 kids up in Canada. She saw a need and filled it. The company's products are designed to celebrate and support breastfeeding mothers.
We were sent the creamy colored hat. Its soft and cuddly. Moboleez are also made from bamboo and cotton. Bamboo is, as we know, a renewable resource- so MoBoleez are kind to our earth. Yay MoBoleez!! I did not take a nursing photo so I will share a stock photo here for you
and now you can see how cute they are, and how covered up a mom can feel when nursing her little one. These hats are so soft and comfy for the baby. One thing I am loving, especially being spring in New England when the sun is SO strong- this covers her little head and neck from the sun exposure!
The classic bonnets are all reversible- one side has a little design- ours has a little bear saying "Mmmmm" which is honestly not something I would have chosen, but the picture is cute and if it bugs you, well, its reversible. They also have some other designs- some simple muted tones like I received, and some really fun bright colors. They have some seasonal ones too!!
My one complaint about MoBoleez and its more a suggestion is that these hats are SO cute and soft- I'd love to let Baby B wear it as a sunhat- but the brim is way too wide for that. I'd love if they had a little clip or something that you could roll the brim a tiny bit and just undo it when its time for nursing. Like my mom always said, if that's all you can come up with, it must be pretty great!
Want to Buy it? MoBoleez are available on their website or you can click here to find a store. They retail for $29.99.
Want to win it? MoBoleez has offered one This Mama reader a MoBoleez bonnet of their choice!! This giveaway is open to the US and Canada and will end on June 20th at 11:59 CST.
Mandatory Entry: Visit MoBoleez and tell me what bonnet you would choose.
Extra Entries: (2 entries EACH)
* Like MoBoleez on Facebook
*Follow MoBoleez on Twitter
*Follow MoBoleez' blog
*Sign up for MoBoleez' newsletter
*Follow This Mama via Google Friend Connect
*Subscribe to This Mama's RSS Feeds
*Subscribe to This Mama via email (remember, you MUST click through the link that Feedburner sends to your inbox to verify or you are not considered a subscriber)
1 entry per day:
*Vote for This Mama on Picket Fences Here
*Share this giveaway on Facebook
*Tweet this giveaway: "I want to win a MoBoleez nursing bonnet http://bit.ly/aaDo1m from @mamatomjr @dianecurriesam"
TEN Entries: Grab my "Safe Fun in the Sun" Button- and show me where to find it!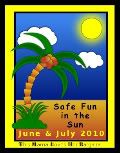 I was provided a sample of this bonnet to facilitate my review of MoBoleez. I was not compensated in any other way and opinions expressed within are my own. I connected with MoBoleez through my membership with www.chicexecs.com.