>When I contacted Jody from EcoMom- Eco-friendly Baby Products- EcoMom about doing a review, I kind of thought I might see if I could review some of the organic snacks he has. Then I saw the craft supply section and asked him if we could do a review of the modeling dough and paint, with the Safe Fun in the Sun event in mind. He said yes and quickly sent a package to the Bargain house. (As in, really quickly!)
The Eco-Kids products come packaged in earth-friendly brown tubes. Kind of like a mailing tube for a poster or a map. Love this. It looks cool, and its kind to our earth.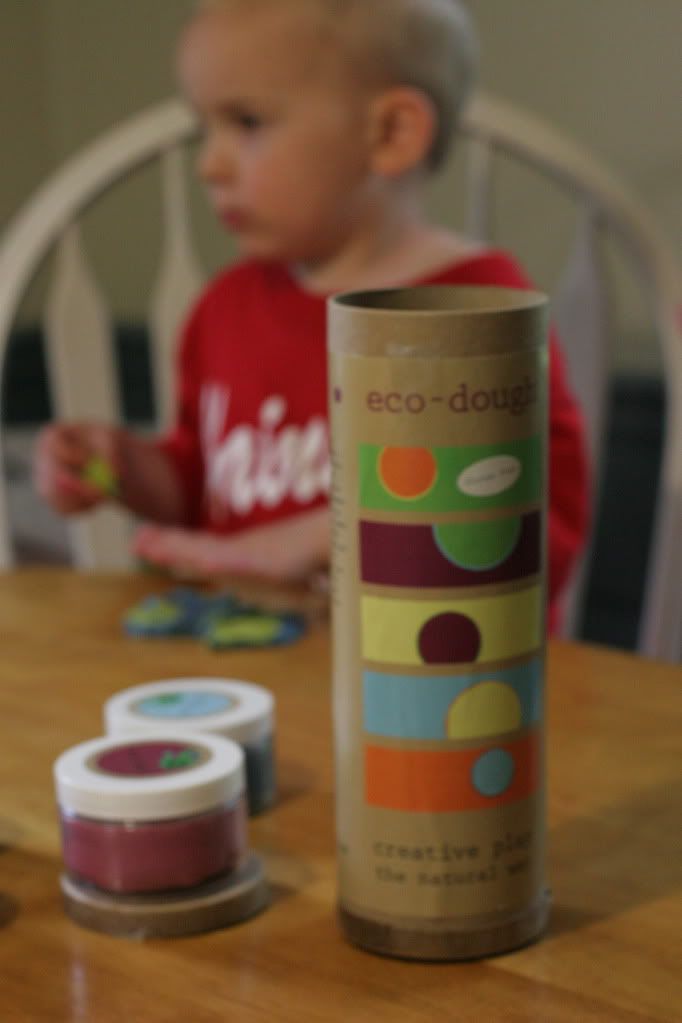 Each tube of paint and play dough holds 5 tubs with food based colors. The Eco-kids site tells the ingredients (or I should say, lack of…) better than I could:
"eco-dough is a molding dough handmade with flour, salt, cream of tartar, organic rosemary oil, vitamin E oil, soybean oil, coconut oil, potassium sorbate, citric acid, natural and organic fruit, plant and vegetable extracts from beets, spinach, paprika, carrots, purple sweet potato, red cabbage, blueberries and tomatoes. *Also available: gluten free"
and
"eco-paint is a powder paint handmade with flour, cornstarch, seaweed, natural and organic fruit, plant and vegetable extracts from beets, spinach, paprika, carrots, purple sweet potato, red cabbage, blueberries and tomatoes. *Also available: gluten free"
In a container, use a 1 to 1 ratio of water to powder. For thicker paint, add powder. For thinner paint, add water. Makes 60+ ounces of paint!"
Notice the ingredients? You can pronounce them. ALL of them. Nothing toxic in there, totally SAFE for some rainy day summertime (anytime) fun!!
The colors aren't as bright and vibrant as some of the big brands, but honestly, the kids didn't notice, nor did they care- they still had a blast. I loved knowing that there wasn't anything harmful when they were painting and making dough creations. I did notice the dough has a scent- not strong or anything, but a scent I couldn't put my finger on. But then, so does Play-doh, right? The colors are warm, and earthy. I like them.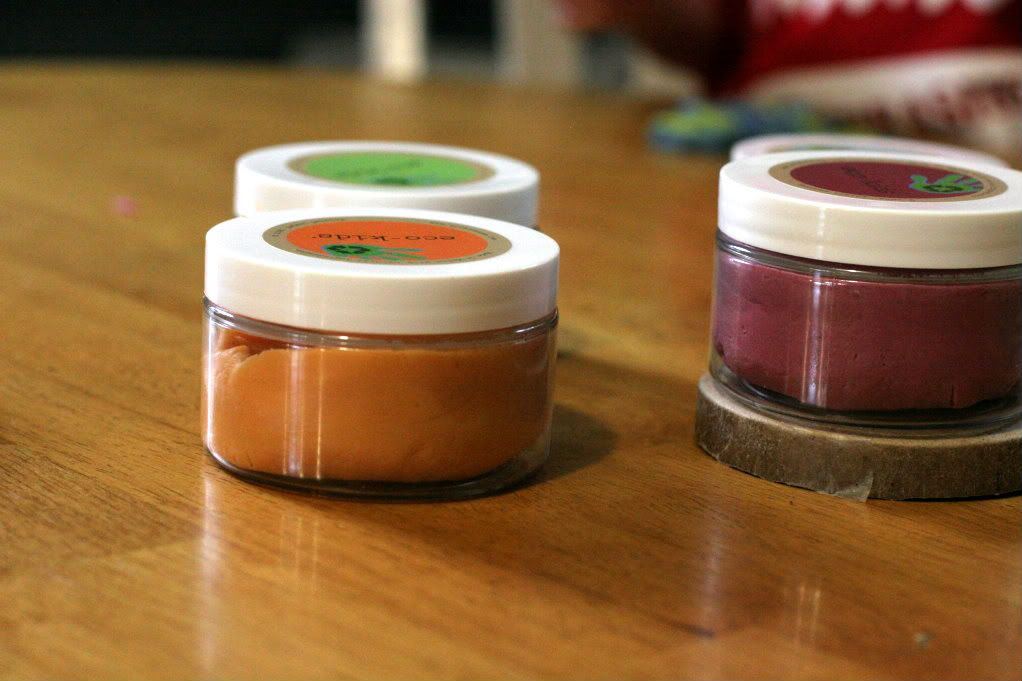 One other thing I want you to notice is that both of these products come in a gluten-free option. Maybe not a big deal for everyone, but if you have a little kid in your life who can't have gluten, it IS a big deal. So maybe someone will discover this by reading my review and introduce a little kid to the wonder of play dough!! We have friends who live in gluten free households and I know it can be tough at times to find good alternatives for things that are without gluten.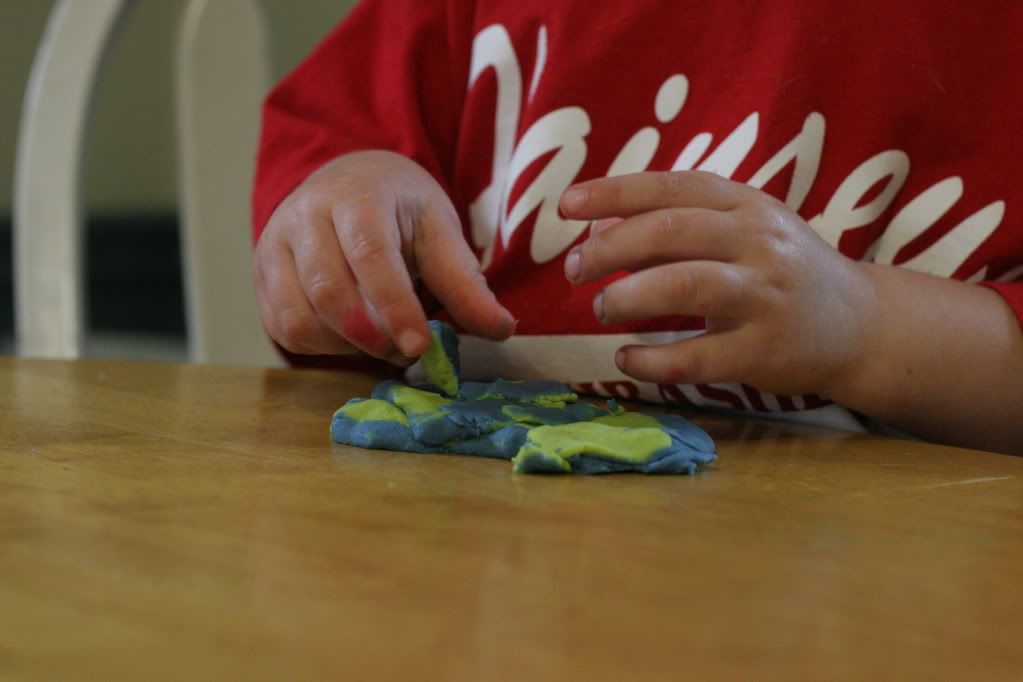 We had fun with this stuff. The play dough is pretty much gone. We loved it to pieces and then loved it some more. Busy made a purple angel fish: and Buddy made a big blob of all colors mixed together. Hey, he's 2 and a half. He likes blobs of colors!! We did some HUGE paintings- we had some large maps that printed wrong so we use the back of them to paint and then wrap a friend's birthday gifts in.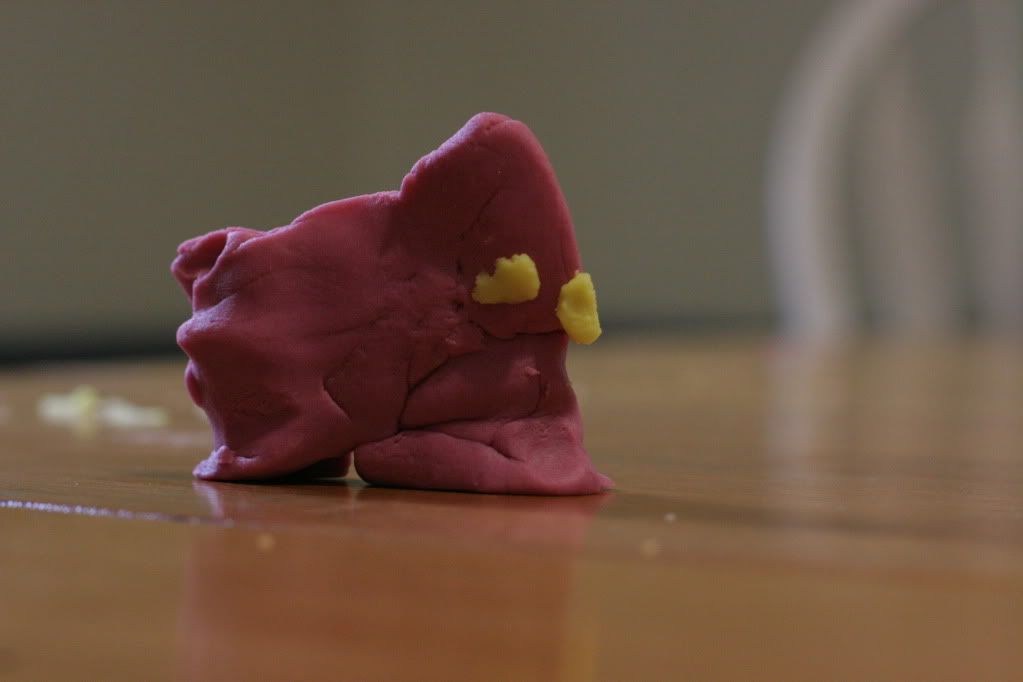 I've never mixed my own paint before. Kind of fun. Like cooking, only I can't screw it up. (Maybe I could but so far, I haven't. Yay, me!) It is a bit gritty- you do have to stir it a few times during use to keep it mixed. But the benefits outweigh the good here- non toxic. Safe.
EcoMom has this cool new program- the EcoPass. This program has a $99 annual membership fee which includes $15 discount on EVERY order AND free shipping on every order. (That would pay for itself rapidly in this house!!)
You can some Eco-Kids stuff yourself and save 15% off any order from the EcoMom website : SBBL364 until June 30th. OR…
EcoMom is giving a $20 gift certificate to one This Mama Reader!! You can pick up your own EcoKids play dough or paint or you can choose something else, whatever your heart desires.
Mandatory Entry:
**Visit EcoMom and tell me one thing you want to try FOR YOU. Not for the kids, the babies, but for YOU.
Extra Entries:
**Subscribe to EcoMom newsletter
**Follow EcoMomCEO on Twitter
**Fan/Like EcoMom on Facebook
**Grab my Safe Fun in the Sun button and leave a link where I can find it!! (TEN Entries!!)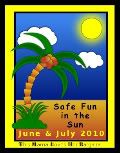 **Follow me on Google Friend Connect —–>
**Follow me on Networked Blogs —–>
**Subscribe to my RSS Feeds —–>
**Subscribe via email —–>
**Share this giveaway on any social networking site- if tweeting include @mamatomjr and @ecomomceo- leave URL of post/tweet/buzz in a comment here.
**Enter in any other giveaway on my blog 1 entry/giveaway
**Comment on any non-giveaway post 1 entry/post
This giveaway will end at 11:59CST on July 2, 2010. Winner to be selected using random.org. If winner doesn't claim prize within 48 hours a new winner will be selected.


I did receive product from EcoMom to facilitate my review but was not compensated in any other way and all opinions expressed within are my own.