>
When I first heard about EasyLunchboxes, I had to go look. Once I looked, I wanted to check them out. So I asked if I could review them and a week or so later,it arrived. LOVE. They are fantabulous. (Yes, it is a word. In the dictionary of my life, fantabulous exists).
What ARE EasyLunchboxes? Well, its a set of 4 divided, sturdy, BPA free and SAFE plastic containers, with snug fitting lids. Each lid is its own color (key in this house!). With the set of 4 containers, which, by the way, nest inside one another- so they don't take up much room in your cabinets…you also get a nice roomy lunch bag cooler. When I say roomy, I mean roomy!! We have used them for picnics and for snacks for park dates and tball practice (the toddlers sit and eat the entire time). Can you tell they were invented by a mom?
The cooler bag can hold up to three of the 3 divided containers at once. There's room in those containers for an entire meal even for an adult!!
This is not our picnic lunch photo, but since I neglected yet again to bring a backup camera battery, this will suffice. We did have the same foods in ours except I don't cut crusts. But see? No soggy sandwiches, and for someone like me, no fruit touching veggies, no veggies touching my sandwich- all the food stays where it should be. Separate from the other foods. (Divided plates were made for people like me).
Here are a few shots of our tball practice use of the EasyLunchbox System: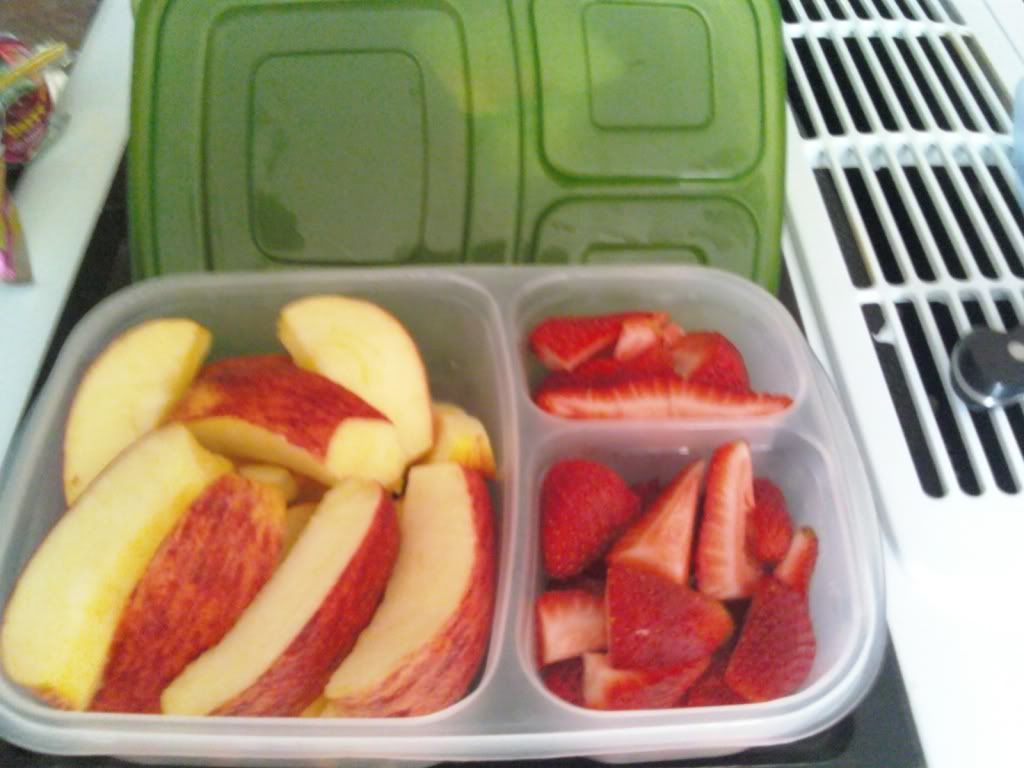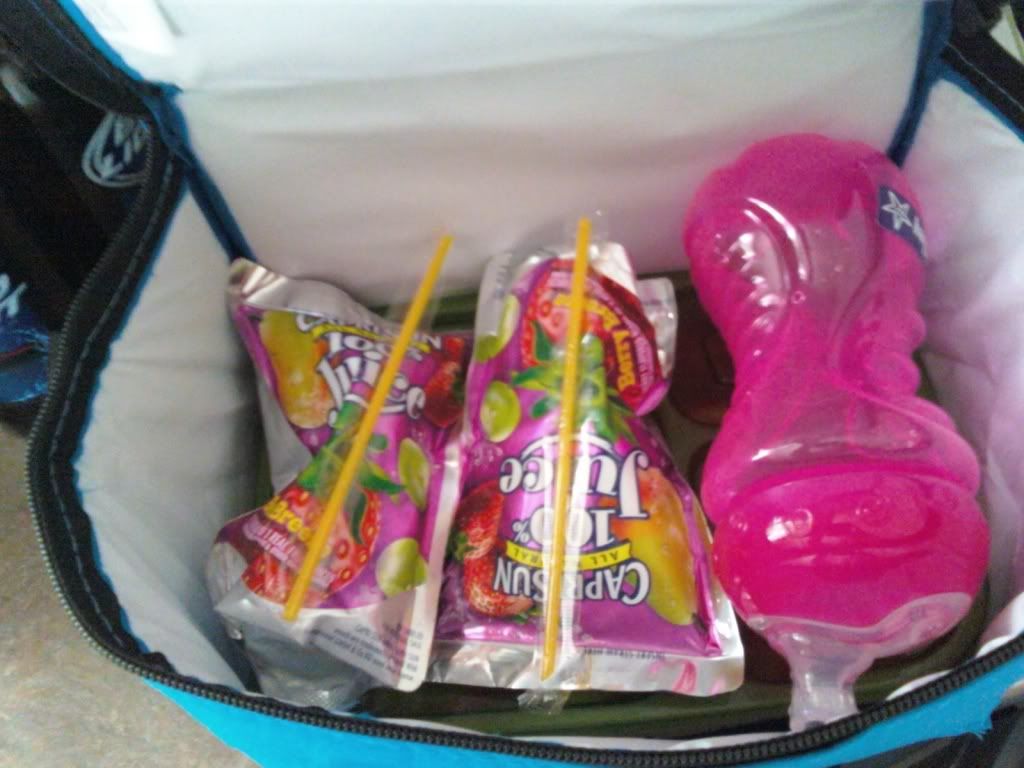 I added an ice pack thing and a little tub of crackers for Baby B as well.
Lots of space. There's a grommet thing on the cooler bag I can clip my keys to as well, which is a really nice feature when you are juggling a 9 month old, 2.5 year old and a 4.5 year old plus all related "stuff" that goes along with said children. I have a habit of misplacing my keys way too often. As with all things that are grommets, you could also personalize your bag, as you choose. My kids already love keychains. I can totally see them putting keychains on their lunch bag!!
As far as safety of the bags, I'm going to share a snippet from the EasyLunchbox site about that:
Safe, Non-Vinyl & FDA Compliant. Washable too!
Our food bags are made of the highest quality 300D Polyester for premium durability and toughness, making them the best fabric lunch bags you can buy. Our Easy Lunch Bags are vinyl free (PVC free) & lead free, with an FDA compliant PEVA lining. If you've been searching for Lead-Free lunch bags, Vinyl-Free lunch bags, or PVC-Free lunch bags, look no further! Ours are guaranteed safe for contact with food, unlike the unsafe vinyl lunch bags that have caused such controversy. Please click here for our full FDA approved test report. Our Insulated lunch bags are easy and simple to use. They each have a sturdy zipper with a large, easy-to-grasp pull. Our reusable lunch bags can be wiped clean with a damp or soapy cloth, inside or out. Even put them in the washing machine (cold water/'delicates' soap/gentle cycle/air dry). They come out great!
I like safe. Safe=comfort. Safe=good. Safe=This Mama in her HAPPYPLACE. I like this system because its simple, and efficient- and so easy to use. Plus, there are 5 color choices for the bags! (I'm not trying to persuade you that MY choices are best, but we love the aqua).
I LOVE this system because its Safe. (See above, where I said Safe=comfort, etc.?) BPA free, lead free, PVC free- washable- all good things that bring me to a happy place. We work hard in our house to minimize exposure if we cannot eliminate it completely to as many toxins and chemicals as we possibly can. EasyLunchboxes fits our requirements!!
Having 4 color lids is awesome. I can see us getting a few more of the lunch bags as our kids start having lunch at school – and at least one more set of the containers. I just feel like everyone can have a color lid and whenver lunches get made, we can just grab the color lid that is ours, you know? (Of course, we have 5 people so we may need them to start having 2 different color lid sets….hint, hint).
Another thing I think is great about the lid colors- if you have someone in your home with a food allergy, you can dedicate one lid to that person…and label it as such-so if my sister takes the kids for a picnic, she'll know that the orange lid is Busy's and will be 100% safe for her, and that the green is my little guy's, and he can eat anything in that without concern. (Even if not allergy- I have to cut foods smaller for my 2.5 year old than my 4.5 year old).
So. EasyLunchbox system. Reusable. Affordable. Nice looking. No plastic waste. No mushy sandwiches (and no touching foods!! YAY!) I have only one caution to you: use a separate container if you are bringing salad dressing along. The lids are really tight but apparantly not snug enough to keep italian dressing from making a very large mess (and I really should have known better but I was so excited to have this little compartment set and it looked all neat and stuff…). So just heed my warning. Salad dressing alone in a compartment? Baaaaaaaaaaaaaaaaaaad idea. There is plenty of room for a little container (a sealing container) of salad dressing in the bag with your drink, ice pack and an EasyLunchbox container.
Now that YOU know about EasyLunchboxes, I have some good news. They have generously offered an EasyLunchbox system to one This Mama reader!!! You will even get to choose what color you would like for the bag!
Oh, speaking of colors, that reminds me. You can, of course,
head over to the site
and buy your own system. For the mandatory entry, you'll want to head over to
EasyLunchboxes
and tell me what color you will choose if you are the winner, and ALSO tell me something that sticks out to you as interesting or important or just plain cool about the EasyLunchbox system.
After you have finished doing the mandatory entry, here are some ways to get extra entries:
Subscribe to my emails (again, you will need to click on the link in the email Feedburner sends to activate or it won't count)
Vote for This Mama on Picket Fences here (1 entry PER day) (its just one click)
Comment on ANY of my posts (1 comment per post, 1 entry per post) or enter ANY of my giveaways (1 entry per giveaway)
Follow me via Google Friend Connect (2 entries)
Follow me on Twitter (2 entries)
Tweet this entry (1x/day) "I want to #win an @easylunchboxes system from @mamatomjr http://bit.ly/aeXODx"
(reply here with link to tweet)
Share this on Facebook (reply here with link to your post) (5 entries)
Grab my "Safe Fun in the Sun" button (code is below)and leave me a link where I can find it (10 entries)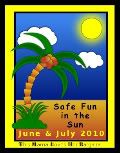 Subscribe to Melissa's blog via confirmed email subscription (2 entries)
Enter any of Melissa's giveaways (1 entry per giveaway) and reply here which you entered.
***Giveaway is open to US and Canada only. Giveaway will end on June 21st at 11:59 CST. Winner to be selected by random.org and will be notified via blog post and email. If no response within 48 hours from winner, a new winner will be chosen using random.org.
I was provided a sample of EasyLunchbox System to facilitate my review but opinions expressed within are my own.